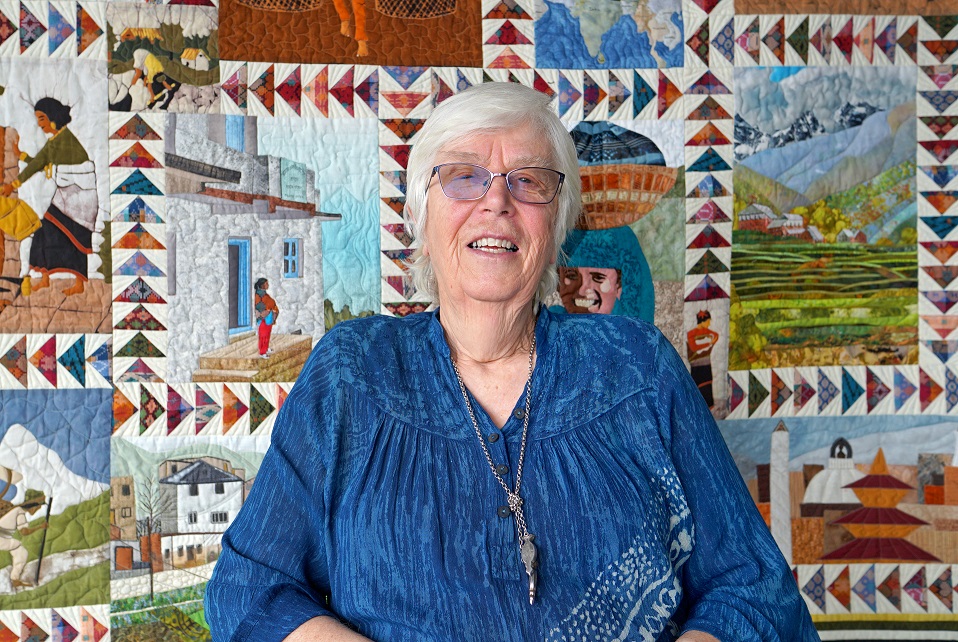 "This is my last quilt," says Renske Helmuth matter-of-factly. "It's the thinking part [that's challenging], not the doing part." The acclaimed quilter from Moorefield, Ontario, is offering what might be her last feature quilt for the New Hamburg Mennonite Relief Sale. In addition to the creativity and logistics involved, including travelling around the world for traditional fabrics, Renske's quilts are also demanding of her many collaborators, mostly quilters from the Waterloo County Quilters' Guild. "[It's] asking people again and again to do something they've never done before."
With an astonishing legacy of nine feature quilts submitted to the New Hamburg Mennonite Relief Sale cumulatively fetching over $130,000 for MCC since 2000, Renske is well deserving of a break from being the New Hamburg Mennonite Relief Sale's most decorated quilter.
It's been seven years since her feature quilt, Threads of Africa, sold for $42,000 at the 2015 relief sale auction. This year's feature quilt, "Glimpses of Nepal," started in the same way as Threads of Africa: with an MCC learning tour abroad. This time, she travelled to Nepal in 2016 to learn about MCC's work there and to bring back unique fabric from a marketplace in Kathmandu.
Renske says she was initially stumped on what to do with the over 17 metres of Nepali fabric she brought home. But when her friend and fellow quilter Emily Hunsberger gave her some batik panels depicting images of daily life in Nepal (such as a man carrying a load on his shoulders and women hoeing in a field), Renske had an idea.
For many of her past feature quilts Renske provided her quilting team—numbering as many as 100 women—with the fabric, colour palette, and general direction for the design. She then pieced together a coherent design with the blocks that were brought back to her. However for "Glimpses of Nepal," thanks to inspiration from the batik panels and personal photos from her trip, she had a clearer idea of what she wanted to create: a collage of life in Nepal. She then hand-picked a group of women who she knew could pull off the technical demands of this quilt. The contributors were Ilene Atkins, Bonnie Murdoch, Tamara Gilhuly, Dorothy Holdenmeyer, Nancy Winn, and Judy Pearce. The blocks were assembled by Renske and then machine quilted by Ruth Kennedy.
As she reflects on the legacy of her quilts, Renske is grateful. "It has been good. It was fun. [The quilts] raised a lot of money but it has done as much for me as I did [for the Relief Sale] because I learned a lot. I got to know a lot of people…I started to teach [quilting]. It's brought me places where I never would've been before. I gave, but I received too."
"Glimpses of Nepal" will be auctioned off at the 2022 New Hamburg Mennonite Relief Sale on May 28.