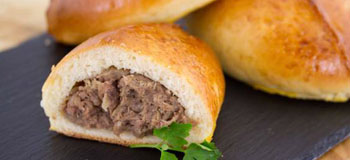 The following recipe is supplied by the WKUM Church's volunteers who have mastered their craft courtesy of the supervision of their Tantes & Omas. As always, there is a story behind the fleischpiroschki and with great pleasure we offer it here. Click here for photos of the baking process at City Café Bakery in Kitchener.
Equipment
Cookie sheets, each to hold 10-18 buns -the bigger the better.
Mixing bowls:
for yeast (2c. measure or 3-4c. bowl)
For heating milk (4c. Pyrex measure or 5-6c. bowl)
For mixing dough (2 large mixing bowls-14-16 diameter)
Frying Pan (large)
Cutting board
Saucepan for cooking and mashing potatoes.
Food Processor for the onions.
Waxed paper.
Tea towels to cover large mixing bowls and cookie sheets.
Storage boxes for baked buns.
Part I. Dough
4 cups of milk
1 cup of warm water
2 cups of fat (2/3 cup each of butter/shortening/margarine)
2 teaspoons salt
2 eggs
2 Tablespoons yeast
12 cups of flour
In 4c measuring cup, heat milk for 6 min. in microwave.
In the meantime, dissolve the sugar in the warm water; add yeast (1 T. at a time) and stir. Set aside to rise to double volume (Us a 2c. measure, or a 3-4c bowl)
Put the salt into a large mixing bowl.
Pour half of the heated milk into the mixing bowl; cut the fats into 1' cubes and add them to the remaining 2 cups of milk. If you have a 4-cup measure, this helps to measure the fat, i.e. when the milk rises to the 4c. line-you have your 2c of fat measured out. Pour into mixing bowl. (Fat does not need to be completely liquefied before adding to mixing bowl-the mixing and kneading will do this.)
Add 9c. flour to the liquids; then add the yeast and the 2 eggs.
Mix until blended. Then add 2c. flour and mix again until blended.
Turn the dough onto a floured surface, using the remaining 1c. flour.
Knead until you have worked in the remaining flour, or until the dough no longer sticks to your hands (using more flour if necessary)
Rinse your mixing bowl, and grease lightly. Place dough in bowl and cover dough with wax paper and place tea towel over the mixing bowl.
Set bowl in a warm place to rise to double in size (this will take 1-11/4 hours). (Suggestion: to do this, have oven warming at lowest temperature while mixing dough, and then shut off oven and place bowl in the oven.)

Part II. Meat
4 ½ lbs. lean hamburger
2 teaspoons Worchestershire sauce
4 medium size blended onions (1 ½ cups)
2 Tablespoons prepared mustard
1 Tablespoon salt
3 cups well mashed potatoes (about 3 - 9" circum.)
1 ½ teaspoons pepper
1 cup beef broth (1 pkg Bovril or Oxo + 1 cup of water)
Brown hamburger with onions, salt, pepper, Worchestershire sauce and mustard. Make certain meat and spices are well mixed. Drain fat.
Add mashed potatoes and beef broth. If mixture is too dry, add more broth.
Spread meat mixture evenly on 1 or two cookie sheets. Cut into 80 equal pieces. Place in fridge until firm.
Remove meat mixture from fridge then shape each of the equal pieces into "sausages".
Part III Assembling the Piroschki
After the dough has risen for 1 ¼ hours measure, cut the dough into 4 equal pieces. Cut each of the 4 pieces into 20 pieces. Flatten each piece with your fingertips to make a 3"-4" rectangle. Place the meat "sausage" on it. Fold up the ends like gift wrap and wrap the dough around the meat. Pinch ends and seams together very well because you don't want the dough to open when baking.
Place on cookie sheet, seam side down, about 1-1 ½ " apart. Cover with waxed paper and tea towel and let rise approx. ½ hour. Bake at 350F for 20-22 minutes. After 10 minutes, turn the sheets around and move the one on the lower rack to the higher rack and vice versa.
Tips!
Day Before:
Prepare the mashed potatoes
Prepare the onions.
Day of:
Enjoy fresh from the oven!