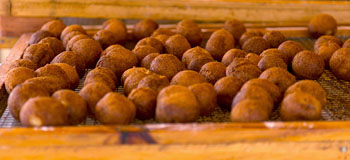 The following 2 recipes were printed in a book sold at the Relief Sale in 1973 and with great pride we republish them here exactly as printed.

Relief Sale Tea Balls
Mix on the beater
2 eggs,
1 cup brwn sugar,
1 cup farmer's cream,
1 cup buttermilk,
1 tsp. soda,
1/4 tsp. nutmeg,
1/2 tsp orange flavor.
Add and stir only enough to blend: 3 cups all-purpose flour, 1 tsp. baking powder, 1 tsp. salt.
Drop by spoonfuls into fat 350o until light brown.
Best results are when cream and buttermilk are unpasteurized.
---
 
Teaballs #2
3 eggs
1 cup sugar
1 cup milk
2 tbsp. melted fat
1/2 tsp. vanilla
1/2 tsp. nutmeg
1/2 tsp. salt
2 tsps baking powder
2 cups flour
Beat eggs. Add sugar, vanilla and milk. Add sifted ingredients. Beat well and then add warm fat. Drop spoonfuls into hot fat (350o - 365o)