May 27 at 8:00 AM | New Hamburg Fairgrounds
For the last few years we've done a distributed event where we had runners, walkers, bikers, bird watchers, kayakers, paddleboarders and more ... each doing their own activities and raising money in support of Mennonite Central Committee as they offer relief to the world's most vulnerable people at this critical time. And together we raised a record amount!
This year we're back to also doing an in-person event as part of the New Hamburg Mennonite Relief Sale as well.
Are you a runner?
Great! We'll have courses set up for approximately 2k and 5k starting from the Fairgrounds at 8:00 am. This is a non-timed "fun run" that lets you enjoy an early morning run with your friends and family at the pace of your choice. If you're looking to set your personal best time in a competitive race, this isn't the run for you. But if you'd like to help us raise funds for MCC and be a part of a great group, we'd love to have you join us.
Are you a walker?
Awesome! Join us for a beautiful walk along the Nith River as you visit with friends and listen to the birds, knowing that you're also raising funds for a great cause. We'll send the runners out and then the walkers immediately after.
Can't make it on May 27th? Or would you rather bike/kayak or do something else?
Fantastic! You can also be a part of this great event by setting up a fundraising page and then doing the activity of your choice whenever it suits you best.
What route will the event follow?
Check out the map below!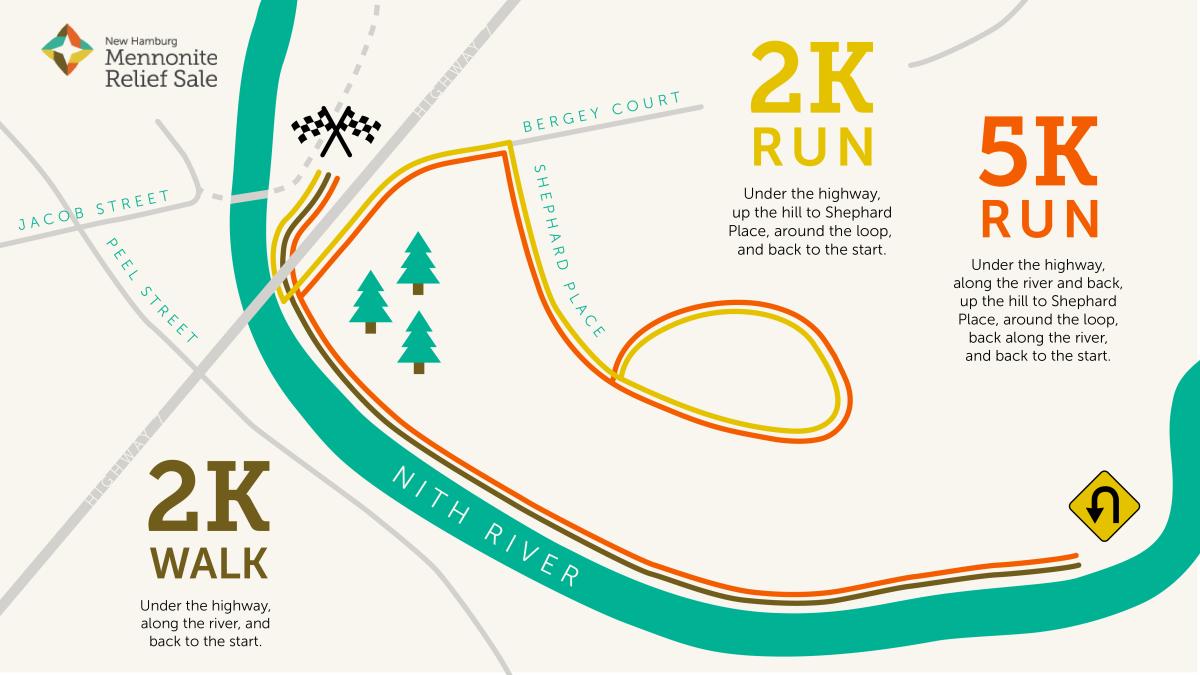 The first step starts here. Look for the buttons to join as an individual, create a team or join a team. Set up a personalized page and send a link to your family and friends to ask them to sponsor you.