Visit the Quilts, Crafts & More tent for lots of interesting home-crafted items!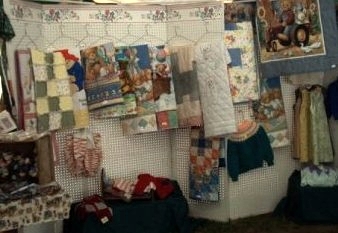 In 2012, this project contributed over $10,000 to the Sale! Your donations help make this venue a success.
We are looking for donations for the 2017 Sale of the following:
Handmade children's sun bonnets
Slippers (adult and children sizes)
Crib quilts to be sold under $100
Fabric shopping bags
Small quilted items, runners, pillows
Quilted wall hangings
Crocheted/Knitted dish cloths
Fabric tea cozies
Afgans (neutral colours only please)
Items for pets
Full aprons in trendy fabrics
Garden items, bird houses, feeders
Casserole Carriers
Sock monkeys and other children's items
Puzzle toys
Quilting items for Quilters' Corner:

Unfinished quilting projects
Quilt books and magazines
100% cotton fabrics cut into fat quarters, rolled with elastic (fabrics that are not cut into fat quarters will NOT be accepted)
If you have such items you wish to donate, please contact Lois through the "Quilts, Crafts and More" category in our Contact Form.