On a grey Monday in January, the vibrant colours of this year's 2020 feature quilt warmed up the MCC Ontario head office with the unveiling of "Fire Island Hosta Queen", quilted by Louise Hamilton.
For Louise, playing with colours is both her creative outlet and her greatest joy. She's been sewing vibrant colours into her quilts for over 25 years.
She recalls with excitement the time she first learned to make quilts. She comes from a family of quilters and after her children were old enough to not need her full attention, Louise took a class to learn the art of paper piecing quilts. "It lit a fire in me that day that I'm excited about," she says. "I just love it!"
Her friends encouraged her to put a quilt into the New Hamburg Relief Sale 16 years ago, a small crib quilt. That quilt raised about $300 for the Mennonite Central Committee and Louise has had a quilt in the Relief Sale every year since.
This year's quilt, "Fire Island Hosta Queen", is a very special one. "I wanted it to be a significant quilt," Louise explains. "It's the centennial year for MCC and I wanted to honour that by making something really special."
Louise finds a lot of support and encouragement from her Cassel Mennonite Church family, so she knew she wanted them involved in the quilt. Each of the ladies in the quilting circle at Cassel brought Louise a square of blue or purple fabric. Those pieces are included in the arcs around the hosta centre of the feature quilt. Louise reflects, "How perfect that the arcs surround the quilt, just as the ladies at Cassel have surrounded me!"
The main colours of the quilt are various tones of purple and blue. Louise's mother, Audrey Langfield, loved blue and Louise wanted to remember her mother and ensure she was included in this significant fundraiser for MCC. Audrey supported MCC's work for many years, making cloth bags to use in preparing relief and school kits to be sent overseas. Audrey would sew up to 100 bags each week!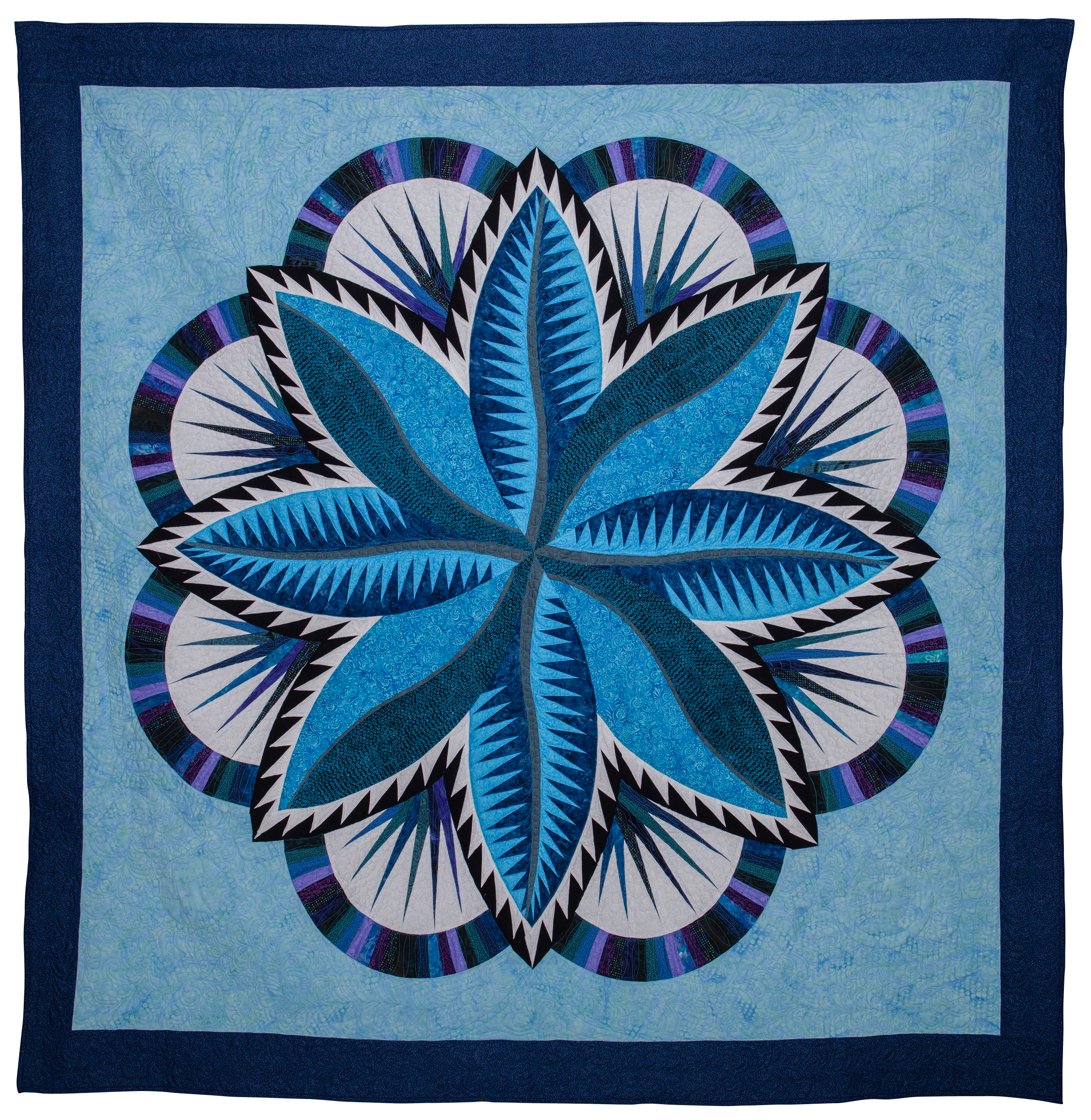 This quilt was made using the paper piecing technique and if you look closely, you'll see each of the more intricate leaves are made up of 40 pieces on one side and 32 on the other. Most of this quilt is pieced together from a combination of the fabric donated by the ladies at Cassel and from Louise's own stash. She believed it would be best to keep in the spirit of Mennonite creation care by using what she had rather than purchasing all new materials.
This is truly a stunning quilt and we're excited to reveal it to the public.
Louise currently lives in Mitchell, where she moved after getting married this past year. She runs her business, "Purple Rooster Long Arm Quilting" from her home. In the past, Louise was a dental hygienist, but her passion for quilting and her great talent have led her to quit her job and run her quilting business full-time. Louise is grateful to the ladies at Cherished Pieces in Tillsonburg who support her work and help with any resources Louise may need.
Louise is overjoyed with the gifts she's been given. "I know God has a plan and it's bigger than anything I could dream up," she says. "I haven't got a clue what's coming, but I trust in God. I just sit back and watch Him unfold his plan for me."