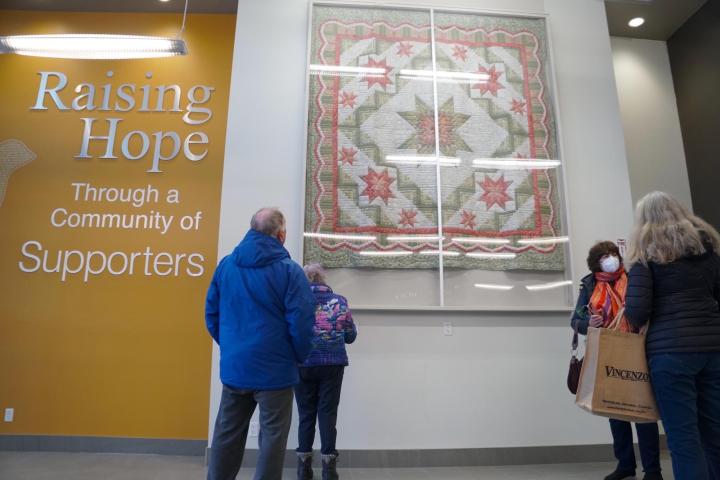 "I felt like the project was exciting all the way through, but I still didn't expect it to be where it is today!" Karen Martin, the chair of the planning committee of the North Woolwich Sewing Circle, is excited to share the 2023 feature quilt at the New Hamburg Mennonite Relief Sale. With 25 quilters from the Sewing Circle and help from a highly skilled friend, this year's quilt, Soda Lite Cabin, is ready to be enjoyed on display at the MCC office building at 50 Kent Avenue, Kitchener.
Measuring 102" by 105", the detailing in the design of this stunning quilt is exquisite; the precision and craft of its construction is second to none. Some of the fabric used was donated by Linda Peel-Devitt who owned and operated the Oakville Sewing Centre. Karen, who was in charge of commissioning the quilt for the Sewing Circle, enlisted the help of a friend (who wanted to stay anonymous). "She's from the horse and buggy community. She's an expert piecer, much better than I am, and she'd never made one like this before." Karen says the friend found the original design in a quilting book out of the Elmira public library and then added on a border from a different pattern. "I think it's the border that really makes it pop," says Karen.
Karen's friend, using only reference photos from the book, cut the various fabrics into hundreds of pieces and sewed them all together before handing it over to Karen. "Cutting these pieces exact is an art in itself. It has to be perfect or it's not going to fit and the stars won't match up in the corners." Karen and 25 ladies from the North Woolwich Sewing Circle then quilted it together, connecting the back and batting in the middle to the front over a two-day period.
The North Woolwich Sewing Circle has been donating at least one quilt to the New Hamburg Mennonite Relief Sale every year for many years. Karen remembers the Sewing Circle meeting at her grandmother's house 55 years ago, and she is thrilled to continue to serve in this way: "It's an honour!"
Soda Lite Cabin will be on display in the lobby of 50 Kent Avenue, Kitchener, until the New Hamburg Mennonite Relief Sale on May 26 -27, 2023, where it will go up for auction.