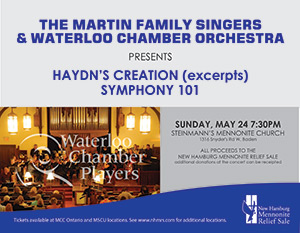 The Martin Family Singers & Waterloo Chamber Orchestra present:
Haydn's Creation (excerpts) Symphony 101
DATE: Sunday, May 24, 2015
TIME: 7:30 - 9:00 pm
PLACE: Steinmann's Mennonite Church, 1316 Snyder's Rd W, Baden 
TICKETS: $15.00 - available at MCC Ontario and the branches of Mennonite Savings & Credit Union. Additional, tax deductible donations to the NHMRS available at the concert.
All proceeds to the Mennonite Relief Sale.
Performing:
Haydn: selections from "The Creation"
Haydn: Symphony # 103 "Drumroll"
Conductors: Bob Shantz & Ben Bolt-Martin
Soprano: Stephanie Kramer
Mezzo Soprano: Elaine Pierce
Tenor Soloist: Brandon Leis
Bass Soloist: Roy Lichti