This article was printed in the New Hamburg Independent
By Scott Miller Cressman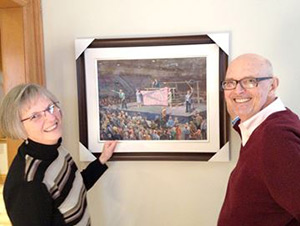 Photo: Peter Etril Snyder presents his painting of the Mennonite Relief Sale to Anne Brubacher, a member of the committee preparing for the sale's 50th anniversary in May.

The iconic sights and sounds of the Mennonite Relief Sale in New Hamburg are celebrated in a new artwork, painted to honour the event's 50th anniversary.
The Relief Sale announced last week it has received a special painting by acclaimed artist Peter Etril Snyder to mark a half-century of selling quilts, food and more at the Mennonite Relief Sale.
Snyder's latest piece is now complete and will be auctioned off at the coming 2016 Sale. The 24-by-18-inch painting should help boost the fundraising total, said John Reimer, chair of this year's even, and also make this 50th Relief Sale special. "We're just very excited about the donation and very thankful," said Reimer. Snyder isn't painting much any more, which makes this donation special. "That he took the time to do that for us, we're feeling very thankful for that," Reimer said.
Snyder's painting depicts the popular quilt auction inside the familiar setting of the New Hamburg arena. An auctioneer and his assistants direct the sale for a crowd of bidders. Like so many of Snyder's paintings, this one is set in a bygone decade. "The picture... is very much in his style," Reimer said.

The detailed scene was stitched together from different historical photos of the Relief Sale found in the archives at Conrad Grebel University College.

The Waterloo-born Snyder is himself of Mennonite background. In years past, he has donated other paintings to the Relief Sale, Reimer noted.

Along with the original, prints of the painting will also be sold at the Relief Sale and likely elsewhere afterwards. This piece could be a memorable keepsake for fans of Peter Etril Snyder or for people who enjoy the sale is part of their heritage, Reimer said. There will likely be more announcements coming for special features at this year's 50th anniversary sale, he added.

The Mennonite Relief Sale is held each year on the last Friday and Saturday of May. The 2015 edition raised $365,000.