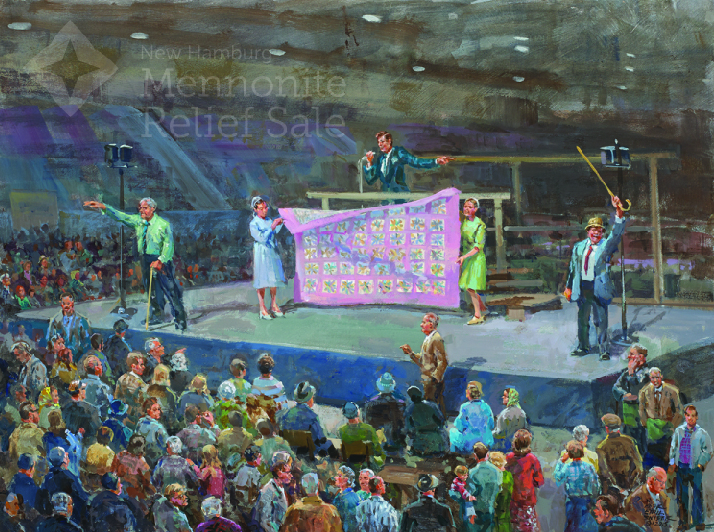 For fifty years people have been coming to the New Hamburg Mennonite Relief Sale and contributed to its success. This year we have the privilege to look back and reflect on the generosity of donors, volunteers, and sale attendees, as well as the blessings of God. As part of celebrating fifty years, we feel honoured by the generosity and talent of a well-known local artist, Peter Etril Snyder, who through the strokes of his paintbrush, allows us to experience the atmosphere of an early quilt auction today. By combining a common auctioneering phrase with the very basis of the Relief Sale – giving – this animated painting has been aptly named, Going Once... Giving Twice....
In commemoration of the fiftieth Relief Sale, we will have fifty prints, numbered and signed by Peter Etril Snyder. Print No. 1 will be framed and sold by auction at the promotion dinner held at Bingemans in Kitchener on April 25th, and the remaining prints will be available for purchase at the Relief Sale in May. The original will be sold as part of the quilt auction on Saturday, May 28th.
We invite you to join us as we anticipate another successful sale which allows us to help the less fortunate in the world.