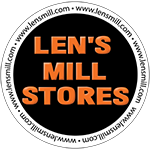 Len's Mill Stores has been a long-time supporter of the New Hamburg Mennonite Relief Sale and is our Auction sponsor at the 2022 sale.
Why is Partnership important to your company? What impact of partnerships do you see in your community?
Partnership is when two groups of people are able to work together in a mutually beneficial way to sustain and grow a common goal. The New Hamburg Mennonite Relief Sale and Len's Mill Stores have quilts in common - we sell quilting supplies and the relief sale auctions off finished quilts – as well as a common goal to provide relief and development to those in need. Together, a business and a charity partnering to use their different strengths can create a more powerful impact in the community.
What has made you interested in supporting the New Hamburg Mennonite Relief Sale?
Every year, we are in awe of the quilts that are presented in this auction. Families and friends coming together to make these incredible quilts for a noble cause and passing down the tradition to new generations is heartwarming and inspiring. We also admire how well the team of volunteers organizes and runs this event. It is something we look forward to attending each year.
Tell us about some of the projects you've worked on and what projects you're working on now. Where can we see your work in the community?
We partner with the Big Brothers Big Sisters charities in the local communities of our stores, both by supporting their charity events and running fundraising campaigns through our business. We also support Camp Quality for Kids.
How do you see your business fitting into the larger context of serving the needs around your community and city?
We supply the materials for fabric, yarn and crafts at discounted rates that many individuals use to create items for charity and we will continue to support causes we believe in, both locally and Globally through the MCC.
What would you like to share with anyone attending the sale to support MCC?
The hard work, dedication and time that quilt donors have put into their quilts and how amazing they truly are. We are thankful to the relief sale team for the planning and effort they put into running this event and for MCC's missionary efforts around the world.
Each year, we sincerely appreciate the talented quilters and dedicated MCC members and look forward to seeing what they have put together.