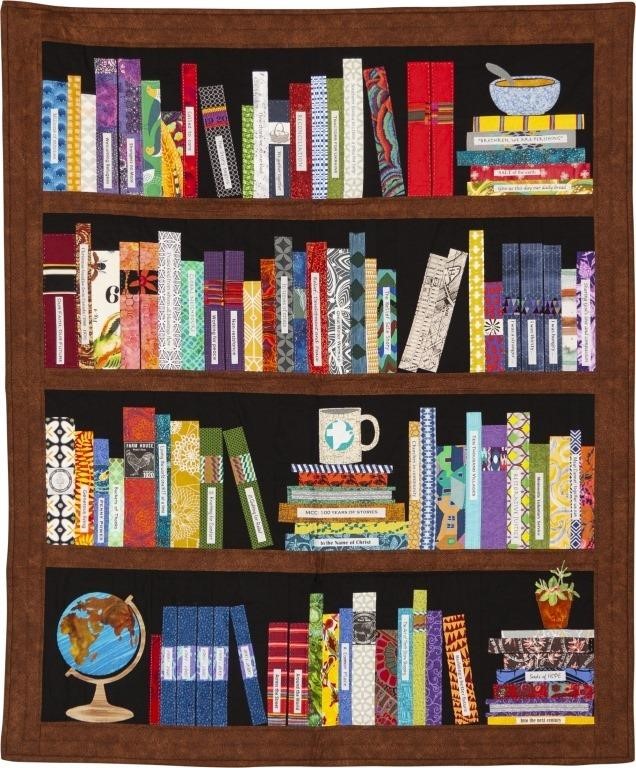 Where can you find 100 years of stories? On a bookshelf, of course. This was the inspiration for the 2020 New Hamburg Mennonite Relief Sale quilting project for the quilters at Hamilton Mennonite Church.
The group took up the challenge of commemorating MCC's 100th Anniversary by transforming 100 strips of unique and colourful scraps of fabric into 100 books. The books, neatly lined up on four shelves, are filled with many stories of MCC's past and present.
Included on the bookshelves are other significant reminders. A bowl of corn-grits depicts the daily ration of food served in the first make-shift kitchens in the Ukraine, a mug represents fellowship and hospitality and a call to generous giving and living and tucked into a corner a tiny, sprouting plant as a reminder that every small work can have a big impact.
Nearly half of the books are untitled. What stories are still untold? Perhaps the book that anchors the bottom right corner, "into the next century, will begin another bookcase of new stories that tell of MCC's ministry of love and compassion.
---
This quilt and many other beautiful quilts will be auctioned at the Spring into Auction: 100 Quilts for 100 Years of MCC on May 30. Click here to view the quilts and register to bid.