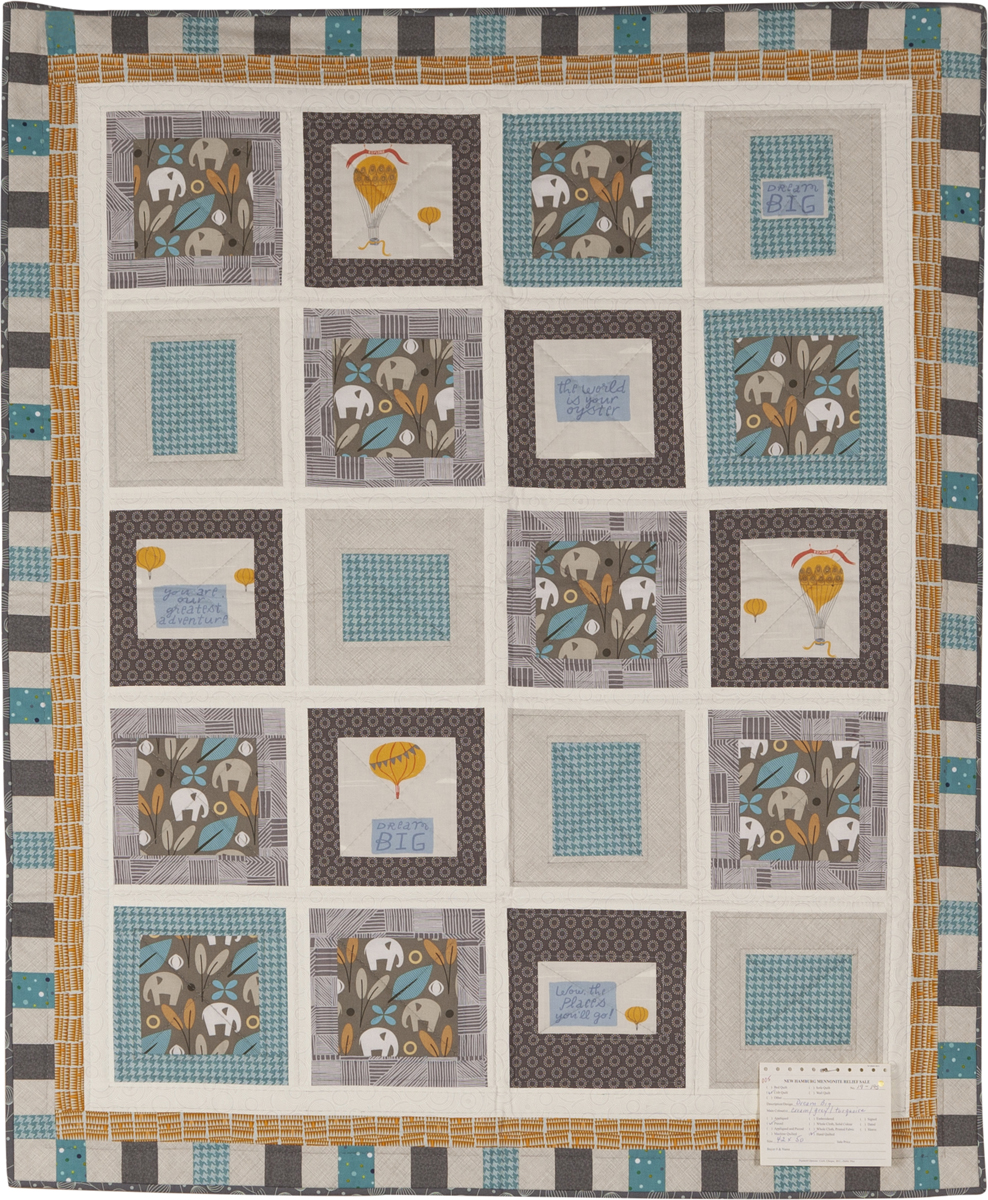 Quilted by:
Hamilton Mennonite Church
Donated by:
,

Judy Geiger

Story
The words on this adorable baby quilt embody the hope of all young parents: "Dream Big", "Wow, the places you'll go", "You are our greatest adventure". It also reflects the hopes and dreams of the quilters themselves.
It all began with one young woman from Hamilton Mennonite Church (HMC) when she attended the 2018 NHMRS Quilt Auction for the first time. She was awestruck and inspired by the beauty and intricacy of the many quilts that hung in neat rows in the big arena. She was even more amazed by the stories these quilts told and what they represented: a multi-generational community gathering together, to learn, to work side-by-side, and to share. With excitement and passion, she appealed to one of HMC's avid quilters, wondering if, and hoping that, this might be possible for her congregation.
And, so it began. An invitation went out to interested quilters of all ages and abilities to participate in a Wednesday evening quilting bee. What resulted was a fun-filled gathering of nearly 25 quilters, aged 9 to 84 years, who worked, learned and laughed together. Some had never quilted before but were eager to learn. Some had fond memories of quilting with mothers and grandmothers around (or under) a quilting frame but hadn't stitched in years. And then there were the experienced quilters.
Each one's enthusiasm and dedication over the course of three months translated into the creation of four quilts. Two quilts were donated to the NHMRS Quilt Auction with the hopes of supporting the good work of MCC. One quilt became a farewell gift to a young woman in the group whose family had moved. She so loved the quilting bee that she chose to enjoy her birthday evening quilting with the group. The fourth quilt, a whimsical bookshelf quilt, hangs in the church library.
Quilting method:
Hand quilted
Primary colours:
Cream, Grey, Turquoise
Batting material:
80%/20% Cotton/poly