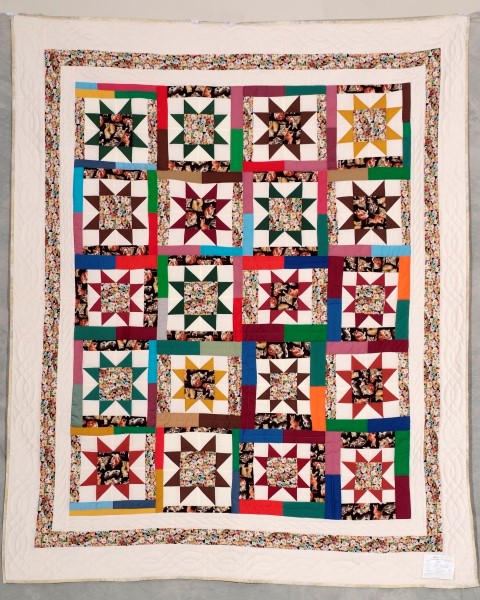 Quilted by:
Village Manor Quilters
Donated by:
,

Florence Schlegel

Story
In 2014 Florence's three daughters and two son-in-laws enjoyed a memorable train trip from Jasper, Alberta to Prince Rupert, BC and return. A highlight of our two night stay in Prince Rupert was a visit to a showroom and retail outlet of local artists and artisans. Of course the fabric art caught Florence's eye and interest and when she returned home she created her own version of one of the quilts there.
We chose to name this design "Cats and Bears in Stars" because of the fabric, but also considered renaming it "Prince Rupert Stars" as it brings back happy memories of precious family time on a wonderful adventure!
Quilting method:
Hand quilted
Primary colours:
Multicoloured, Cream
Quilt material:
Poly-Cotton
Lining material:
Poly-Cotton
Batting material:
100% Polyester