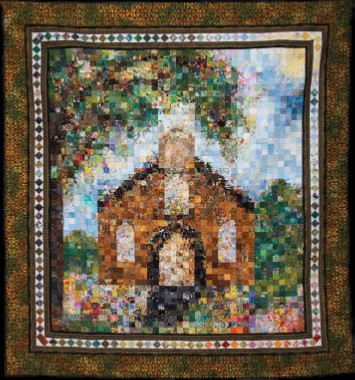 Donated by:
,

Hawkesville Mennonite Church WMCEC

Story
My name is Julene Fast. I have been enjoying making quilts for 30+ years. 32 years ago I moved from Manitoba to Southern Ontario and began attending Hawkesville Mennonite Church. It is situated in a small village not far from Kitchener. This rural church has become part of my very core being as I have connected with the people that make up and have made up this body over many decades of life.
Quilting was one of the areas at Hawkesville where I first began to feel this connection. The women that welcomed me and were thrilled when I showed an interest in quilting and being part of the sewing circle group gave me a place to begin the long, slow process of feeling at home in this part of Canada. They were the first to delight in my creations in the quilt world and were always glad to admire when I brought another show and tell item.
I have had a lot of fun and joy in coordinating our group's quilt contributions to the annual Mennonite Relief Sale in New Hamburg. Together we have created my quilts that have been sold at the sale. Our little church, along with other rural churches, has had discussions about our size, our future and how church is different than it was 50 years ago. I have never though, experienced a decline in the love and compassion that is shown each other in all our varied life experiences.
I wondered if an idea I had for a quilt creation would be possible for our group of quilt piecers. I had put the idea aside believing that it might just be too difficult. However, we got asked if we would make a feature quilt for the sale and it seemed like I needed to pull that idea back onto the table. I wanted to make a picture of Hawkesville Mennonite Church using small squares. Sort of like a giant puzzle. A few trusted women assured me that it was an exciting prospect and, with that confidence, I set about designing and planning the making of this quilt. It was daunting but the absolute thrill I experienced as I observed about 20 of us putting together this giant puzzle, picking pieces out of about 10,000 2" squares that had been precut from our stashes of fabric, was all worth it. There are around 3000 pieces in this quilt.
I asked Pix Martin to quilt this quilt as she has quilted many of my quilts over the years. The job she did completely astounded all of us at Hawkesville. It is exquisite.
This creation is dedicated to Hawkesville Mennonite Church - all who have ever called it home and all those who might yet do that one day. You are beautiful.
Quilting method:
Machine quilted
Primary colours:
Brown, Gold, Green
Batting material:
80%/20% Cotton/poly