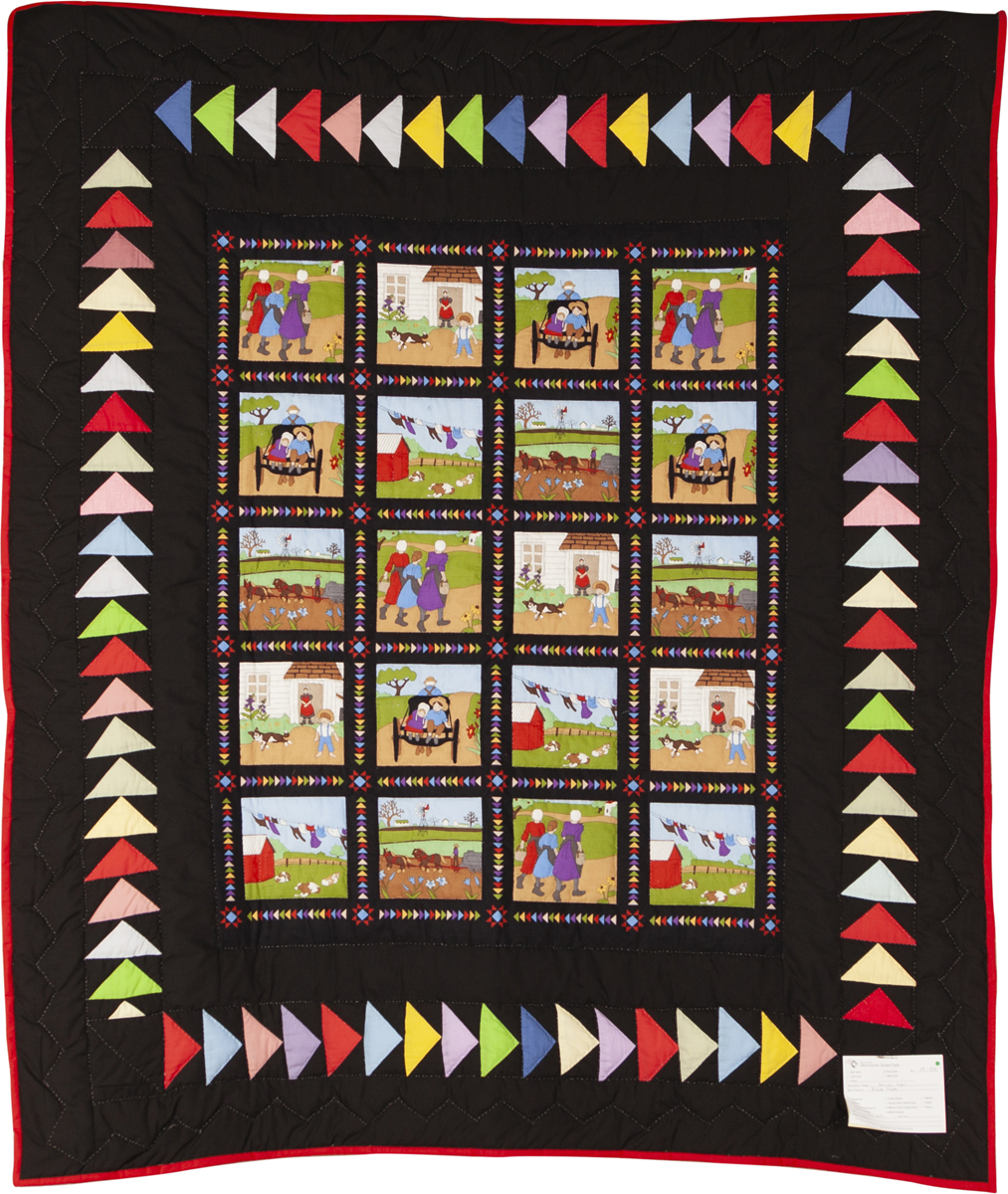 Quilted by:
Florence Schlegel
Donated by:
,

Florence Schlegel

Story
I saw the printed fabric at a quilt shop in New Hamburg and liked it. I created the border, particularly the multi-coloured flying geese to complement the small flying geese pattern in the printed fabric between each individual picture.
Florence Schlegel has been donating time, energy and talent to the New Hamburg Relief Sale from the first sale in 1967 to now.
Her earliest contribution was as one of the leaders of the East Zorra, Cassel and Tavistock Mennonite Churches to get the doughnut project off the ground at the very first sale. Oh the stories she tells about these first years!
For each of these fifty-three sales, Florence also created and donated hand-stitched quilts for the auction and creative items for the craft tent. With multiple quilts given each year, how does one estimate the total number of quilts and myriad of craft items donated over the course of all these years!
For the first many years of the Relief Sale, Florence could be found not only organizing the doughnut stand but working tirelessly there, both up front and behind the scenes, on, before and after the day of the big event. The last number of years, when her physical energy didn't allow for such physical output, Florence could be found, with some of her family, anchored solidly on a reserved chair in the arena, coffee flask on hand, watching every moment of the quilt auction unfold, from start to finish, and recording the price fetched by each individual quilt.
Though the style and complexity of Florence's donated quilts have understandably changed as she has aged, this year she has again donated three quilts to the auction and many knitted dishcloths to the craft tent.
With diminishing eyesight and failing health, Florence has recently had to give up quilting, her beloved hobby and artistic expression. She has so enjoyed designing, piecing and hand-quilting her creations. She has found joy in giving her masterpieces to her family and others, for special occasions or 'just because'. She has also found great joy in donating quilts each year to the Relief Sale, believing fully in the cause of MCC and feeling grateful to be able to support the worldwide work in various ways, including this way.
This year's donations are likely Florence's last new creations to be donated to the New Hamburg Relief Sale. She has enjoyed each minute of every involvement she has had with "the sale".
Quilting method:
Hand quilted
Construction:
Pieced, Printed Whole Cloth
Primary colours:
Multicoloured, Black
Quilt material:
Poly-Cotton
Lining material:
Flannelette
Batting material:
100% Polyester