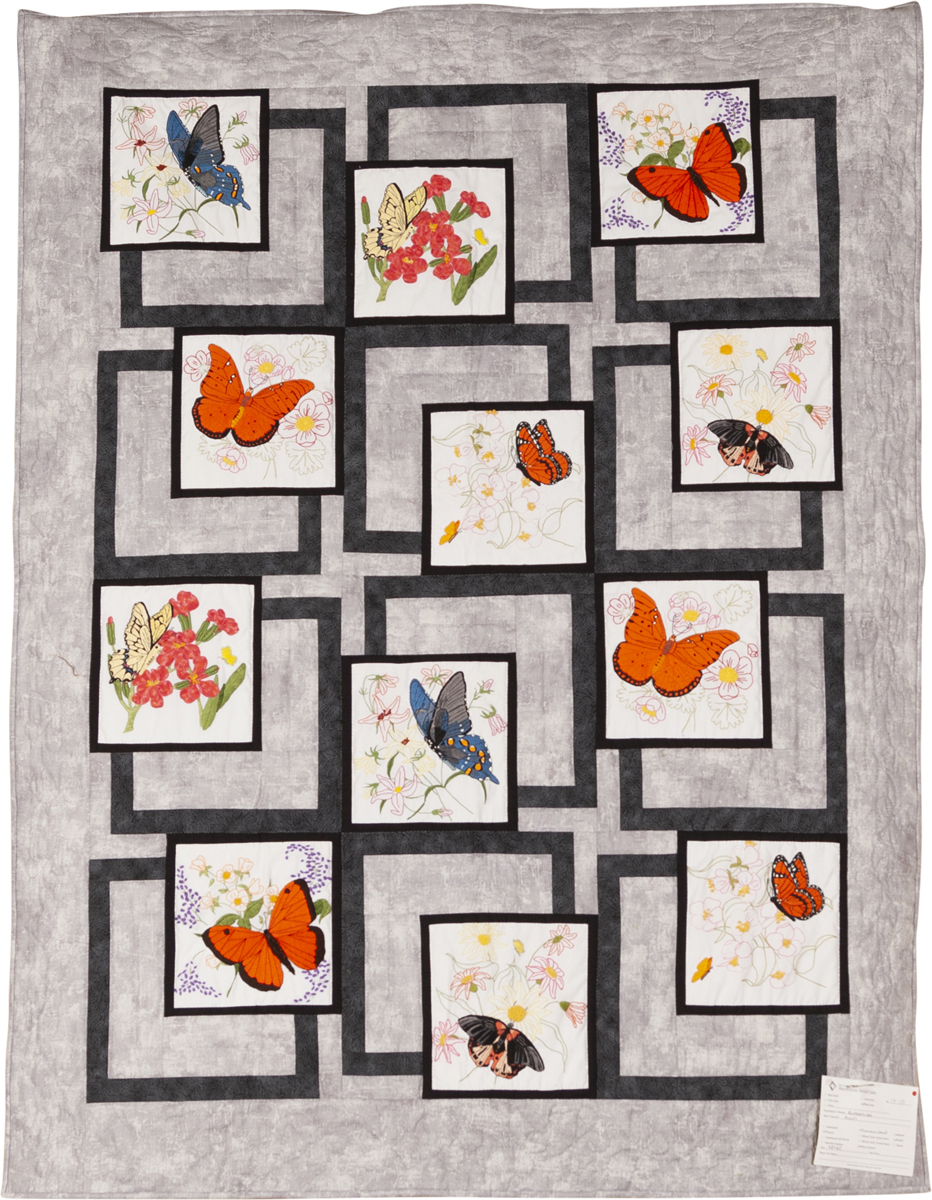 Quilted by:
St. Jacobs Mennonite Church WMCEC
Donated by:
,

St. Jacobs Mennonite Church WMCEC

Story
This beautiful work of art has a very unique beginning. Once upon a time, some fabric blocks with stamped butterfly patterns were discovered on the cupboard shelves in the home of the late Lovina (Nelson) Weber, and donated to the St. Jacobs Mennonite Church Woman's group. It was undecided what to do with them, so once again they were put to rest on a shelf. Years later they resurfaced and Karen Snyder offered to take them home and came up with an idea. Her artistic eye and talent helped her see that she could finish the blocks using embroidery thread instead of "Artex liquid embroidery" which the blocks were initially meant to be painted with. Karen then researched the actual colors of some of Ontario's butterflies and got to work. Her exquisite hand-embroidered stitches consisted of French knots, satin stitch, back stitch and stem stitch. She then used long and short stitches to fill in the bodies of the butterflies. This was the finishing touch that made these butterflies magically come to life. Next Loretta Martin designed the wall hanging, adapting a design by Debbie Bowles for Maple Island Quilts Inc, and Doris Phohl expertly sewed the blocks together. Finally, it was quilted by the women of SJMC, resulting in a truly stunning piece of art. The wall hanging will be on display at SJMC during the St Jacobs Quilt Shows in May.
Quilting method:
Hand quilted
Construction:
Hand Embroidered, Pieced
Primary colours:
Multicoloured
Batting material:
80%/20% Cotton/poly