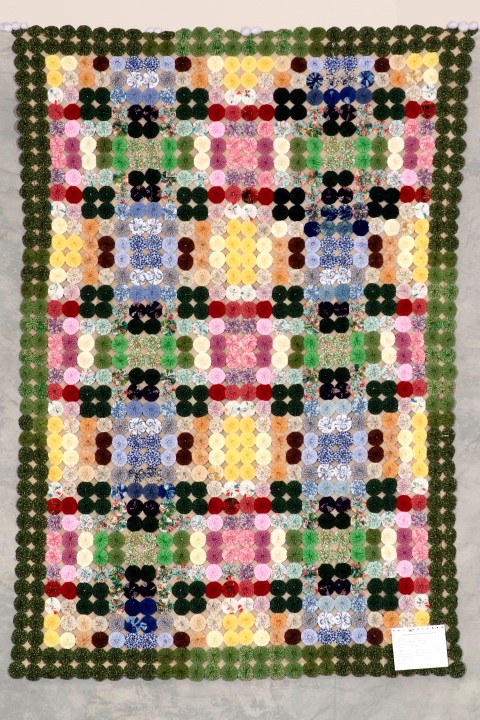 Story
About a year and a half ago, the Christian Benefit Shop (MCC Thrift) in St Catharines received a donation of interesting fabric pieces in a grocery bag. That alone was not anything unusual except these fabric pieces were finished yoyos a little bigger than the size of a loonie. For those of you who do not know what a yoyo is in fabric language, it is a circle of cloth that is cut, folded around the edge and basted with thread and pulled together with a little opening in the middle. These are then flattened and sewn together individually with a couple of stitches on four sides from one to another to create a three-dimensional effect either for a quilt or for many other creative crafts items. This type of quilt-making was popular in the 1920's to 1940's.
BUT- one smell into the bag and it all lost its appeal. Whoever had brought this bag in was definitely a smoker. The bag reeked of cigarette smoke. Policy at the store is that items smelling of smoke are not put out for sale. What to do? One said it needed to go to the garbage-but the other said no, let us see if we can do something with this.
A search of Google came up with a few suggestions for getting rid of smoky smells - one being to place bars of Irish Spring soap into a container with the offending item. And so 9 bars later, each small individual bag with its sorted colors had a bar of soap in it and then this bigger bag sat in the basement closet for over a year.
A conversation about these yoyos sparked interest in one of our seniors who is a vivid quilter and knows a lot about quilting. She is now living in a seniors' complex and is not as able to be out and about as she once could. This, she said was something that interested her. Her eyes lit up when she saw the bag, with the bars of soap having been removed and a pleasant odor of soap wafting from the smaller bags. Her excitement grew as she saw the yoyos - beautiful printed fabrics of assorted colors. She could see the potential of what this could bring. Because she is more or less bound in her small bachelorette apartment and the days could be long, she was eager to see what she could make of all of this. Over the next few months, she embarked first and foremost in making a quilt topper for a bed, and then covers for four pillows and two runners. A total of 1862 yoyos were used for these. (1,120 were used in the quilt topper which could also be used as a wall hanging.)
In keeping with supporting MCC, it was decided to bring the items to the New Hamburg Relief Sale in May of this year. And so the old saying of "One man's trash is another man's treasure" comes true. Through the work of first, the unknown person who cut out and sewed all the individual yoyos and donated them to the thrift store, to the second who felt they had worth, and not to have then thrown out, and to the third who used her vision and sewing abilities to put together beautiful yo-yo creations, the yoyos have found life and hopefully new owners at the New Hamburg MCC Relief Sale.
Primary colours:
Multicoloured
Quilt material:
Poly-Cotton