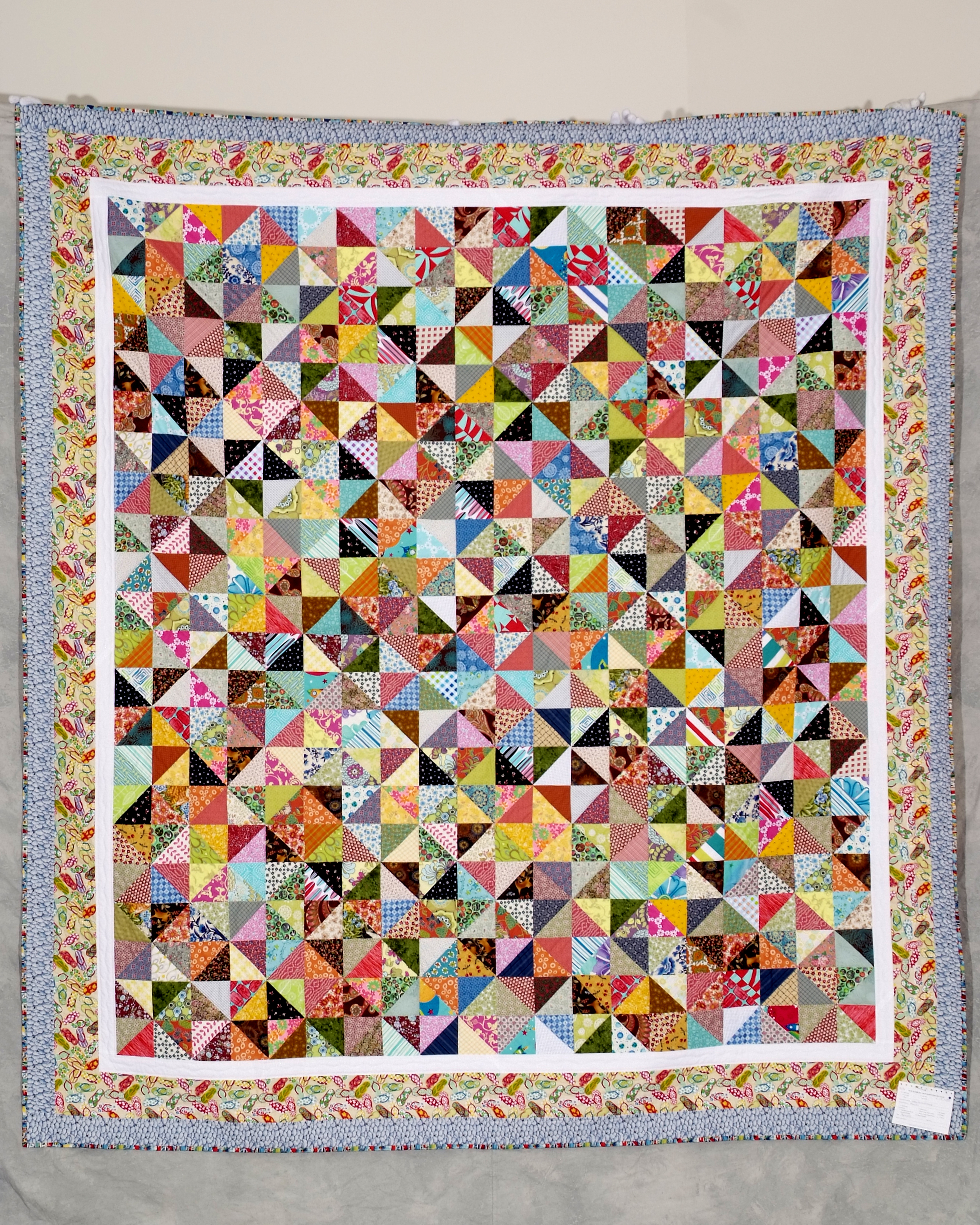 Quilted by:
Wanner Mennonite Church
Donated by:
,

Connie Mader

,

Joyce Richardson

Story
Designed and Donated by:
Joyce Richardson and Connie Mader
Quilted by: Wanner Mennonite Church, Cambridge, Ont.
THIS FUN and colourful quilt is perfect for a teenager, a child, or for anyone who is addicted to scraps! It would be great for the cottage, that extra quilt to have handy or to use everyday. It is extra big at just 4 or 5 in short of a King, so you won't be left in the cold when the covers get pulled away on you! It can also be reversed! We put detail on the back too! WE love the look of scrap quilts so we each went through our stashes and pulled a variety of fabrics. We shared the duties and came up with this colourful quilt that reminds us of shiny coloured broken glass when you look at it from a distance. It also came to mind that it is a great metaphor to remind us what a wonderful and colourfully cultural world in which we live and to celebrate that diversity! We are not all cut from the same cloth, but when stitched together it creates something beautiful. A variety of wonderful and enthusiastic newbie and experienced quilters, young and old, including 2 men from Wanner Mennonite Church helped us with the quilting. One of the men is a retired surgeon and he did a really good job carrying over those skills ! This is our first time donating a quilt to the sale and it was such great fun putting it all together. We are already planning what to do for next year !
Quilting method:
Hand quilted
Primary colours:
Multicoloured
Batting material:
80%/20% Cotton/poly